Do you want to train like Arnie or become a professional bodybuilder? And are you looking for the ultimate plan for success? Sorry to disappoint you. Arnold is a fan of instinctive training. There is not the ONLY true plan. He had dozens of different plans and his views changed constantly. Luckily, there were magazines in Germany about bodybuilding, which documented Arnold's training wisdom well. In this article I'll present a guide line with all his wisdoms sorted by the years. Of course the list is not perfect and that's why I will constantly fill it with new information and update it. It will be worthwhile to come back. Have fun.
Table of contents
Chapter 1: History and influences in earlier years
Chapter 2: Arnold's publications in magazines and his courses
Chapter 3: Arnold's training partner
Chapter 4: His greatest secret
Chapter 1: Influences
Europe is the centre of physical culture and provides stories of numerous strength acrobats. Arnold was born in Austria in 1947 and was therefore strongly influenced by bodybuilders or strength athletes before 1950.
At the beginning of the 19th century terms like fitness and bodybuilding did not exist at all. Physical training, education of body and mind, gymnastics were the terms at that time. Training with barbells was done for the purpose of masculinity, beauty and power increase and not because of the trend.
The showmen of the folk festivals such as Eugen Sandow, Hermann Goerner or Arthur Saxon used strength training to also strengthen tendons, ligaments and muscles and thus avoid possible injuries during their daring strength exercises.
Bending coins with your bare teeth, lifting heavy objects, wrestling against a young elephant, all those skills were required to be a successful showman.
As a young boy, Arnold dreamed of being free and escaping the daily grind. Even before Arnold or the time of bodybuilding, strength athletes dreamed of escaping the pressure of their profession and being able to live from their passion. Some wrote books, published courses or developed the first prototypes of nutritional supplements and brought them to the people.
Especially successful was the Prussian strength athlete Eugen Sandow with his ideas and wisdoms he reached everyone, especially the young Arni. And here are the first components of success: Respect the past!
Even Arnold, with his straight fresh 19 years, knew about the past and left much about it. In his bestselling Book 'Total Recall' famous names like Eugen Sandow and Alois Swoboda are mentioned. He discussed with his mentor and photographer Albert Busek why the sport of muscle building has become so unpopular. It is the nature of bodybuilding and the way how they advertise themselves, argues Arnold. He characterized the athletes of his time as loners and solitary. Exceptions were Sandow and Swoboda, they were well known both in Europe and America and their business with muscles flourished [1].
They were able to market themselves and make a name for themselves. Guest appearances in front of famous kings, performances in theatres were always fully booked and their books were bestsellers. They possessed the qualities of an entertainer and their stories encouraged Arnold.
He explains in his biography that in Sandow's time the competitions took place in certain establishments like restaurants, pubs or theatres. [1]
Music, beer and good mood were part of competitions. For this reason they were always well attended, but the concept was forgotten. Instead, the competitions took place in unloving industrial halls and cellars.
Arnold remembered back to Sandow's times and he liked the idea of combining bodybuilding with entertainment. His first project took place in Munich, he showed his muscles in combination with music in a Munich pub [2] He stuck to the concept of the "oldtime strongman" and never lost sight of the past.
Arnold Sports Festival
20 years later the format 'Arnold Sports Festival' was created with great success. The stands are always fully booked by companies and well attended by guests. The success of this format was helped by the past: the combination of muscles, power and entertainment.
In a recently published YouTube video (2020) from the magazine 'Men's Health' Arnold's everyday life was documented. At the end of this video, Arnie trains his biceps at Gold's Gym.
He finished his last training set and dedicated his thoughts Eugen Sandow.
"I would like to train with Eugen Sandow. He is one of my role models. He is unique. He was a strongman and the first bodybuilder," Arnold told the cameraman. No, he didn't tell it, he raved about him!
You want to train like Arnold? Then you have to think and feel like Arnold. One of Arni's greatest recipes for success are role models and memorizing and visualizing pictures. And so here begins the story of one of his first role models: Eugen Sandow!
Eugen Sandow
Eugen Sandow was born on April 2, 1867 in Königsberg, East Prussia. He owes his interest in physical culture to his father and the Roman sculptors. When Eugen was 10 years old, his father took him on a holiday trip to Italy [3].
Eugene admired the heritage of the Roman Empire: picture carving, architecture and sculptures of the gladiators. Especially the pictures of the muscular gladiators accompanied him and formed his ideals of a healthy body. Round shoulders, a flat stomach and a strong chest, these were the images that reached and shaped young Sandow.
Sandow's recipe for success: Flexing and Breathing
One of his most famous training principles is the 'Light Dumbbell System', which is performed with light dumbbells, from 1 to 5 pounds. It is one of the most famous training principles and also one that is often misunderstood.
Even Franco Columbo, the strongest bodybuilder in history, wrote in his book 'Coming on Strong' that he started with 2.5KG dumbbells to build a foundation. He also recommended after training to pose [4] or as the athletes in Sandow's time used to say: "Muscle Control!"
Sandow's system was successful and so popular because it could be used by everyone. Beginners, seniors, teenagers and even children. Eugen wrote in his book that he used such a light weight to concentrate his thoughts on the muscle. Heavy weights would only distract the beginner and miss the real goal of training, namely to feel the muscle.
It is much more an exercise of your willpower or rather to direct your thoughts to the muscle. To control the muscle and to direct your thoughts to one thing, that was the recipe for success of the 'bodybuilders before 1950 or the time without steroids.
According to Eugen Sandow, the man who wants to build up muscles must practice and develop the ability to control himself. [5] Eugen developed a table or guideline and recommended training with light weights for all age groups. The tablet illustrates a variety of exercises and indicates the number of repetitions and weight to be completed.
Remarkable is the number of repetitions, which varies from 20 to 50, and Eugen's advertised recommendation that even children as young as six years old should be allowed to train with light weights.
Also remarkable is the type of training: It was much more important to him to do the exercise slowly and carefully. Jerky and fast movements are taboo, but Eugen recommends slower ones to make the muscle stretch and contract.
Feeling the muscle, filling it with blood and building the connection between mind and muscle, that was the secret. In the German version of his book 'Kraft und wie man sie erlangt', Eugen insists on breathing, which will play an important role in the later years of bodybuilding history.
Besides, never go to the pain threshold/muscle failure, Eugen wrote. He also wrote that a quarter of an hour of concentrated work makes more sense than an hour of unfocused work without feeling and with carelessness. [6]
In the beginning you'd train with light weight, and if you notice a progress, you may increase the weight [6] Eugen Sandow is of the opinion that there are two types of muscles: Arbitrary and involuntary [8]. Random muscles are under the control of your thoughts, whereas involuntary muscles you would not have the control (e.g. the beating of the heart).
Be patient and do not practice too hastily or quickly. In order to master the system successfully, steady and calm movements are necessary. Quick and jerky movements would direct the energy to the bones instead of the target muscles.
Eugen's book illustrates exercises with light weights: lateral and front lifting, squats and biceps curls. As an untrained person, push-ups can be heavy and therefore Eugen recommended the following variation: In exercise 13 of his training board, push-ups, Eugen recommended the exercise to start with the knees on the floor [7].
As soon as you gained strength, he suggested to do the push-ups with your legs stretched out.
During the exercises he recommended breathing evenly and naturally. From 7 days of training he recommended a day off. [7] On the board, you would also see the exercise 'Squat' without weight, the illustration is on the tips of the feet and the hands are at the hip. 
At the time of Sandow there were other musclemen like Otto Arco, Siegmund Klein, Hermann Goerner, Max Sick and many others. Hermann Goerner did Deadlifts with his little finger and lifted weights beyond the 300 kilogram limit [9]. Siegmund Klein used gymnastics bars and Kettle Bells. Many people performed power stunts in circuses and lifted unwieldy objects such as a piano, car or even wrestled against a young elephant.
Athletes trained in the early days of the 20th century. The first synthetic testosterones were developed in 1930 and the official marketing followed in 1937 by German company "Schering" [10]. 
Steroids in Muscle Mags
The first report or first mention of androgens in bodybuilders' magazines was published in the American magazine 'Muscle Power' in 1951. The author Earle Liederman, began the article with the line: "New medical muscle growth" and writes about a congress in San Francisco last year. He said that scientists had found a new treatment to cure diseases. The name of the new wonder drug, methyl androstenediol, is said to stimulate the growth of body tissue, and Earle Liederman says he is completely new and unfamiliar with such a drug. [11]
I would even claim that the above mentioned athletes trained and built up muscles without the use of steroids. How did the strength athletes train? Some of them also talked in their books about controlling the muscle, breathing and willpower and preached this training principle to their students!
Who used the knowledge of those strengths legends?
Joe Weider (1919 – March 23, 2013), American entrepreneur and "coach" of Arnold Schwarzenegger, used the knowledge of the European strength athletes for his magazines! [12] Your Physique, Muscle Builder and Muscle & Strength were his bestsellers and sold 3 million copies a year! [13]
Eugen Sandow and breathing
In Eugen Sandow's German Book, a whole capital is devoted to breathing. The nose is meant to breathe and not the mouth, he wrote. The chest and internal organs are important for building a full chest. The air should be pure and the breathing deep to make the lungs stretch. The air should be pure and not be breathed twice. [14]
Arnold Schwarzenegger and the muscle magazines 
Back to Arnold's discovery and information gathering. Many claim to have discovered and trained young Arnold. But the truth is: He discovered himself in the magazines and drew motivation from them. His first encounter with muscle magazines took place early in his childhood. While accompanying his mother through the shopping centre in Graz, he discovered muscles from America at a magazine stand. Steve Reeves and Reg Park were standard on the covers. He asked his mother for the magazines, eventually during his teenage years, the readings piled up and decorated the walls of his child and teenage room. Posters, instructions on nutrition/protein drinks, chest expanders and beautiful panoramic shots of the bodybuilders, those were the contents of these magazines [15].
What were Young Arnie's thoughts? "One day I'll be better. My idols that I had immortalized on my wall: Chuck Sipes, Reg Park, Larry Scott, Bill Pearl, Dave Draper, Frank Zane, Serge Nubret.. I will defeat them. They will remember me and my name and everyone will know I exist", this could have been the train of thought of young Arnie's. [16]
In Arnold's biography 'Total Recall' the above names are mentioned often and repeatedly. The pictures and training contents of these bodybuilding stars strongly influenced him. I would even say that these men were the first trainers of Arnold. They helped him to start with bodybuilding and to build a vision.
Also the Mr. Olympia winner (1983) and Arnold's training partner 'Sammir Bannout' read a lot and bought bodybuilding magazines and pinned the pictures on the wall of his teenager's room. 
How did the stars of the magazines train? The training is not important, it's their life story and what they achieved with their muscles. Some of them experienced great success in the film industry, others sold and marketed themselves successfully!
Reg Park was successful in acting and won countless titles in bodybuilding such as Mr. Universum 1951 [17]. He loved to train hard and wrote about his views in muscle magazines. Muscle building includes basic exercises and the bodybuilder should temporarily train for strength, but the focus on muscle building should not be lost. He combined strength training with bodybuilding! [18] He also liked to train with the chest expander and even published a course about it.
Dave Draper, the Blonde Bomber, lived isolated from the outside world in a log cabin . He combined deadlift, squats, power curls and overhead pushing together. [19] Loved to train early in the morning and enjoyed being alone with his iron. Many super sets made up his training and he won the title Mr. America in 1965 [20].
Chuck Sipes is called 'The Bodybuilder Hero' because he used his reach to influence the youth of the prisons. Chuck Sipes won the Mr. World title in 1968 and at that time he trained with Don Peters and Arnold Schwarzenegger. 
Chuck Sipes also discovered himself in the magazines and named Steve Reeves as his role model. Chuck Sipes started training in his school days. While his classmates were sleeping, he made his way to the schoolyard an hour before school started and performed pull-ups and dips. During the breakfast break his classmates smoked and ate unhealthy stuff, but Chuck Sipes followed a different lifestyle and went to the nearest supermarket to stock up on healthy and high-protein foods. [21]
The school time ended and he didn't know where to go. Feeling lost and looking for a challenge, he joined the US Army as a paratrooper.
Chuck pursued an occupation and many hobbies away from bodybuilding. His recreational activities included water skiing, snow skiing, climbing, cycling and hiking. [22]
"I love the mountains, and if I had the time, I would climb the Alps," said Chuck Sipes.
Remarkable is the fact that he worked as a lumberjack in the California forests for two years. A lot of endurance and physical work influenced his career as a competitive bodybuilder.
Also worth mentioning and unimaginable for today's professional bodybuilders: He suspended his training for 2-3 weeks to pursue his greatest passion: climbing in the high mountains of the Sierra Nevada, United States.
His wife drove him out into the wilderness and dropped him off. After two weeks she would come and pick him up at an agreed place, usually 160KM from the starting point. Chuck described his days in the wilderness as, "Carefree and a great break from bodybuilding." [21]
However, he still trained with the help of resistance bands and chest expanders [21] and was thus able to maintain his muscles. Despite the influence of factors such as cardio and an insufficient diet due to the hike, Chuck Sipes was able to win many bodybuilding titles.
Arnold's beginnings
Until the age of 15, Arnold's sporting activities consisted of football, jogging and cycling. [23] There are reports that in 1963 he set up a device between two trees at Lake Thaler, Austria, to perform chin-ups.
It is recorded that he did not do any dumbbell training until he was 15 or 16 years old, instead he was outside in the fresh air and probably did free exercises (pull-ups, dips etc.) like Chuck Sipes.
The young austrian bodybuilders Kurt Marnul and Harald Mauer walked along the Thaler See in 1963 and met the young Arnold, hanging on his homemade pull-up bar, which he mounted on two trees. [24]
Kurt and Harald trained with weights for a while and looked like it. And here is another factor for Arnold's success: Be Hungry .
Arnold immediately recognized that the two young men were training and ran after them to attend the conversation about muscle building.
Harald proudly told them about his apartment at Defreggergasse 1, which he had build up especially for strength training. He was talented in craftsmanship and made his own equipment.
"I built an electronic device that automatically counted the training sets and repetitions" Harald told.
He was also a big fan of the American company 'Weider' and imported the training equipment to Austria.
Young Arnold only knew the training equipment from America from the magazines, and he was visibly enthusiastic. Harald realized Arnold's potential and invited him to train.
Harald Maurer documented the training of Arnold on his website mahag.com.
In addition, Harald emphasizes that they trained their legs at the beginning. Their leg training took place at the former weightlifting club Athletik Union. At that time bodybuilding was taboo, and Arnold was forced to include the typical weightlifting exercises in his program.
Bodybuilding photographer John Corlett owns an audio recording of Arnold, which was taken on March 4, 2006: "Back in Austria, when I started lifting, you weren't allowed to just go to the gym to do bodybuilding …. so we had to do Olympic weightlifting and I became part of the team and we went from a village to the city and did all the competitions. It was a wonderful experience at the age of 16,……and 17 and 18"
According to Harald, they trained up to 3 hours a day. Then in April 1964 the event took place in the Steirerhof in Graz, where Arnold posed on a stage for the first time and Harald won the title Mr. Styria.
Concentration
The following interesting quotations can be found on Harald's website:
"Arnold was with me practically every day from the summer of 1963 until I enlisted in the army. He was a tall, slim lad and I actually remember him as not particularly talkative. The most striking thing for me at that time was his honesty – he seemed to me to be a very "straight" character and I never caught him lying. He could train with incredible concentration and hardly spoke a word."
And here's another quote and indication that the magazines were a big influence: "Arnold and I, however, drew the training schedules and methods mainly from American magazines."
The American Muscle Magazines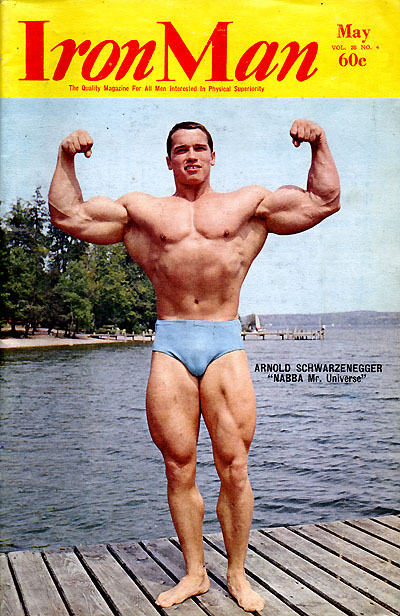 The magazines Iron Man and Muscular Development were of high quality. Especially the magazine 'Iron Man', managed by Peary Rader, was of great interest to Arnold. At the end of the 70's the rights of the magazine were sold. There was a small group of buyers: Todd, John Balik and Arnold Schwarzenegger! Finally the rights were sold to John Balik. [25]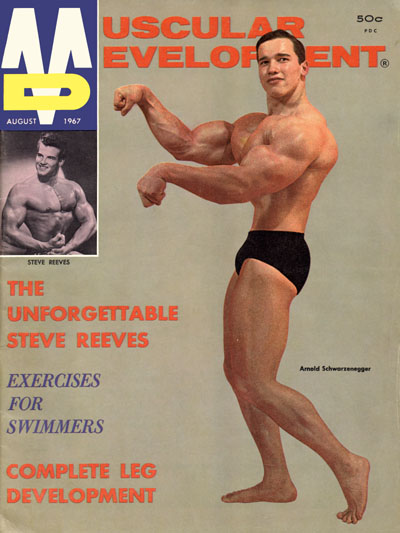 The manager of Muscular Development was John Grimek. I asked Jan Dellinger, who worked for Mr. Grimek, about the relationship between Arnold and Grimek. He wrote me this:
"Arnold visited York Barbell a couple of time while I worked with Grimek. The first time during my tenure with York was when Arnold was filming the "Stay Hungry" movie.  Like Reg Park, Grimek was an early bodybuilding idol of Arnold's, a relationship which the latter cultivated in a sustained way. For example, annually Arnold would fly Grimek and his wife to Columbus, OH and comp them a hotel room for those big Arnold shows. Also, when Grimek passed away, the local news media called York Barbell saying they had heard rumors that Arnold was going to attend the funeral, asking if the rumor was true. I understand that while Arnold did not attend the funeral for fear that his presence would disrupt the solemn proceedings, about three weeks thereafter, he did slip into York and visited Mrs. Grimek to pay his respects.
   Beyond that, Arnold and Grimek had met before coming to York Barbell Company itself, and exchanged phone calls and letters. Even in the days Arnold was the centerpiece of Weider's magazines, there was contact. According to Grimek, if Arnold felt Joe was taking him for granted a little, he would manage to get Grimek some good shots, even color transparencies, and, of course, Arnold would end up on the cover of Muscular Development. Naturally, that did not sit well with Joe, who would ask Arnold how this happened. Arnold, of course, professed having no idea."
And how can I imagine the content of that magazine?
Celebrity bodybuilders like Don Ross, Boyer Coe and many others published their training secrets. Topics related to power lifting and weightlifting were also found in the magazine. Anthony Ditillo, a famous iron writer with cult status, published articles about strength training with the Powerrack for decades!
Not only the athletes made a contribution, but of course the editors-in-chief also had an influence. Peary Rader's and John Grimek's predicted their readers a lot of leg work with a special breathing technique and diet.
The secret of the old school athletes
Peary loved to bodybuild and in his days the incredible story about Joseph C. Hise occured. With the help of a special technique, this oldtime-strongman was able to build up 35kg of mass within a very short time. Peary witnessed Joseph Hise workoing out and he wrote: "I remember very well how Joseph did the squat exercise. He would bend, then pause and do further repetitions. It was in this sense that the principle of sets was born. We have no idea who first trained in this style. But I received reports from West Coast, so I would guess this system was developed by the West Coast coaches." [26]
Peary Rader would even perform the special knee bend of Joseph C. Hise. Usually the target was 20 repetitions and breathing also played an important role. The more repetitions, the more often the breathing in and out was done. With the combination of squats and milk Paery Rader experienced a new training effect.
He announced the training knowledge by the first publication of his magazine 'Iron Man'. The first copies went out to his friends. [27] From then on, over the decades, squats, milk and meat were a big part of Iron Man's training column.
The German magazines were inspired by America, and here you can find the importance of breathing and squats too. Reinhard Smolana, Mr. Germany 1960 and at times coach of Arnold, explained in the magazine 'Sport und Kraft' No. 41 that there was a special breathing technique which revolutionized the world of bodybuilders.
As an example he explained the Squat. During the movement into squatting position, you should inhale and exhale powerfully when returning to a standing position. Reinhard recommended noisy breathing.
Arnold's Squat Technique
Jerry Brainum (author for Iron Man) trained with Arnold and could very well remember the sets and repetition numbers of the leg training, although these were decades ago. He remembered it well because Arnold trained to the point of complete exertion.
In the video clip you would watch Ed Corney and Arnold training their legs. You would also quickly notice that the two athletes take very deep breaths, so that the chest lifts and the pectoral muscles stretch. Many sets are performed here, but never to the point of complete muscle failure. Arnold loved the effort, but he would never lose the technique and control of the muscle.
In fact, weight is not an issue with this type of squatting. Many old school training courses allow you to start with the empty bar!
Arnold does one repetition and then another. You can see his effort! After he bends, he pauses and collects energy. Breathe in and out and again breathe in and out.
After that, pullovers and flying with the dumbbell follow, again as a reminder: Stretching the chest additionally after the Squat was propagated by the magazines of Peary Rader, Joe Weider, John Grimek and Bob Hoffman.
They made a great contribution to the development of the Golden Era.
It is also worth mentioning that Arnold has his muscles under control. The movements are fluid and harmonious, no twitching or jerking. He has truly understood and internalized the concept of muscle control!
In his book 'Total Recall', page 77, he wrote that he was able to squat 225kg, 5 – 10 repetitions!
The Most Influential Person: Franco Columbu
One of Arnold's best times was between the ages of 16 and 19, when he competed in both weightlifting and powerlifting competitions and trained for strength.
In between his 'strength competitions', he competed in bodybuilding competitions and would finally give up his career as a strength athlete. Short note, almost all successful bodybuilders of the 70s started with weightlifting: Sergio Oliva, Dennis Tinerino, Franco Columbu, Chris Dickerson and Jusup Wilkosz
The most influential training partner was Franco Columbu, he encouraged Arnold to use more and more weights! Franco Columbu was a boxer and member of the German Powerlifting Team in his early days. According to Franco Columbu's book [28], he first met Arnold in 1966, October. At that time Franco Columbu was 25 years old and Arnie 19.
How did it come to the meeting? During his training in the gym, Franco noticed a note on the notice board. It was about a contest of the German Powerlifters. [29]
He decided to take part in the event, which took place in Stuttgart. He met Arnold for the first time, who took first place with the following weights: Bench press 165kg, squat 140kg, deadlift 250kg and a total of 585kg. [30] 
There seems to be a small error in the force table. If you would add up the three data of the extract, you would get a total of 555Kg instead of the indicated 585kg.
Another note: Franco Columbu's book ('Coming on Strong', p.19) states that Arnold was 17 years old at that time. The competition took place in 1966 on October 30th [30], so Arnold was 19 years old.
Franco Columbu took the first place in his weight class (<80Kg).
He did 205kg in deadlift, bench 140kg and squat 175kg. Total: 520kg [30]
After this competition they would train together from now on. According to Franco, they would try to outdo each other in the three major strength disciplines of squat, bench press and deadlift. [31]
So it's official: Arnold didn't just curl or "pump", but trained for strength and competed over the years. So it would be interesting to read something about his strength performances over the years.
Arnold's powerlifting career and records (Compiled by David C New)
There are two different sources about the first Schwarzenegger competition.
According to an interview with Peter McGough, his first experience as a competitor in a competition took place in early 1963. This took place in a beer hall and according to the interview, Arnold was able to push a 165 pound (75kg) barbell over his head. It is unclear what technique was used, which plays an important role in weightlifting. Clean or jerk? [32] 
According to Arnold's first training partner 'Harald Maurer', Arnold would not have touched a dumbbell until the summer of 1964. Extract from his website:
"When Harald Maurer went swimming with friends at Lake Thaler, young Arnold Schwarzenegger hung in a tree and did pull-ups on a broomstick. When he saw the well-trained Harald, he immediately ran up to him and asked him how it would be possible to look like that. Harald Maurer answered: bodybuilding.
Thereupon Arnold trained for half a year with and by Harald Maurer. In 1964 Harald Maurer won the first Mr. Styria competition, Arnold came in 4th."
1964 Styrian Youth Champion
In the magazine "Kraftsport Revue" No. 30, Jan 1967, weights of 280kg are given. The author 'Albert Busek' wrote that Arnold became Styrian youth champion. No further details are given. The English translated article [30], gives a total of 705 pounds/320kg. Also here only weights are mentioned.
1965 Weightlifting Junior Championships of Styria
Arnold won the Junior Weightlifting Championships. No details [33]
An interesting photo appeared in the book "Arnold-Hautnah". Arnold apparently presses 250 pounds/113 kg on the bench. He is wearing a weightlifting suit of the Graz team.
1965 Austrian Weightlifting Championship
Arnold claims in his book 'Education of a Bodybuilder' that before he turned 18, he won the Austrian team heavyweight title. Albert Busek also wrote an article about this. In the summer of 1965, Arnold had won the first place in Austrian weightlifting. [30] In the book "Education of a Bodybuilder" it seems that it must have been Arnold's last weightlifting competition.
The Strength & Health article [30] gives the following weights: Press 264 pounds, Snatch 243lb and C&J 298lb. No further details about the time of the competition.
Oldtime Powerlifter 'Thomas Klose' from Germany has access to the files of the weightlifters and wrote the following:
OldtimePowerlifter from Germany 'Thomas Klose' has access to the files of the weightlifters and wrote the following: "…In the meantime I have rummaged through our old documents and found three performance records of Arnold Schwarzenegger in 1965. He was a member of the team of the Union Graz club in the team championship competition three times. As a 17-year-old with a body weight of about 90 kg he was able to push 90 kg, tear 85 kg and push 110 kg on average. He did not start in an individual championship, whether at state or national level. This also means that he is not Austrian or Styrian champion."
1966 Styrian Powerlifting Triathlon Championship
Arnold took fourth place. Bench press 140kg, squat 150kg and curl 100kg. Helmut Cerncic won the competition, Ernst Theiner was second and Fritz Tatscher third. [34] Property of the photo: Harald Maurer
1966 International Powerlifting Championship
Deadlift 250kg, bench 165kg and knee bend 140kg. [30]
1966 Mr. Europe, First (BB competition)
Arnold competed against Franco Columbo, Helmut Riedmeier, Abdul El Said and many others! [35]
1967 German championships in powerlifting
Bench 170kg. Squat 200kg, Deadlift 280kg. [36] 
1967 Mr. Universum NABAA (England, BB competition)
Arnold won the first place [37].
1967, December Paradise Cellar Championships
According to Wendy Leigh, Arnold competed against Helmut Cerncic and lost. No details.
1968, 5 May German Powerlifting Championships
Squat 215kg bench 200kg and Deadlift 310kg [38]. According to 'Education of Bodybuilders', this was Arnold's last competition!
In 1968, Arnold would defend his title as Mr. Universe. He was contacted by the multimillionaire Joe Weider and went to America. [41]
Franco Columbu Powerlifting Career
According to his book Coming On Strong, he started training with 2 1/2 pounds of dumbbells. In the course of his career, he increased and used weights beyond the 200 kilo limit.
1965 –
Weight: 70kg; bench press 300 pounds/136kg, press 180 pounds and curl 230 pounds [42]. 
Mr. Nürnberg (Apr 24)
Bench 280 pounds/127kg body weight: 66kg [43]. 
1965, Nov International Championships Powerlifting
Bench 125kg, squat 160kg, deadlift 200kg, 8th place [44]. 
1966 October International Powerlifting Championship
Deadlift 205kg, bench 140kg, squat 175kg [30].
1967 April German Championships
Bench: 170kg, squat  200kg, deadlift 230kg (all three disciplines were German records) [36]. 
1968, May German Championships
Bench 185kg, squat 230kg, deadlift 270kg [40].
1969 FBB Mr. Europe in Essen
Deadlift 310kg (the record at that time was 290kg) [45].
– End 
Note: Chapter 2, 3 and 4 will be published later this year.
Sources
1. Total Recall, p 78
2. Total Recall, p 79
3. Iron Man, Jan 1959 p 26, The coming of Eugen Sandow 
4. Coming On Strong, p 15 und Franco flexing; Franco and Sylvester
5. Eugen's Book:Kraft und wie man sie erlangt, p 25 
6.  Eugen's Book:Kraft und wie man sie erlangt, p 65
7. Eugen's Book:Kraft und wie man sie erlangt, p 68
8. Eugen's Book: Kraft und wie man sie erlangt, p 67
9. https://de.wikipedia.org/wiki/Hermann_Görner, https://usawa.com/tag/hermann-goerner/
10. https://www.steroid.com/Testosterone-Enanthate.php
11. Muscle Power in 1951,
12. Interview DBFV Präsidenten 'Eric Janner'; Youtube
13. Franco's Book : Coming On Strong, p 50
14. Eugen's Book: Kraft und wie man sie erlangt, p 40
15. Total Recall, p 38
16. Total Recall p 102, http://www.mahag.com/harry/begegnung.htm
17. http://musclememory.com/show.php?s=reg+park&g=M
18.  Strength & Health, Sep 1968 p 26, Strength training for BBers- Reg Park
19. Dave Draper, Brother Iron Sister Steel
20. http://musclememory.com/show.php?a=Draper,+Dave
21. Flex, September 1990, 'Man Of Iron'
22. Ambassador of Bodybuilders, Muscle Training Illustrated, June 1971
23. Muscle & Fitness, Mai 1980, Arnold's Calves The 500 Hour Investment
24. Wer hat Arnold Schwarzenegger entdeckt?; http://www.mahag.com/harry/begegnung.htm
25. Jan Dellinger, E-Mail
26. Iron Man 1959, October, All The World's Greatest Bodybuilding Routines
27. Powerlifting USA, 2004 Jan., Mabel Rader Pioneer of PL
28. Coming on Strong, P.19
29. Coming on Strong, P 18
30. Kraftsport Revue 1967, Jan Nr. 30 Pages 36-37; Englische Version H&S 30. März 1967
31. Coming on Strong, P.20
32. Muscle & Fitness, July 1997, P 60
33. Kraftsport Revue Nr. 30, Jan 1967
34. Der Muskelbilder (Nr. 33, Oct 1965)
36. Kraftsport revue Nr. 34 (p. 34-35)
37. http://musclememory.com/show.php?s=schwarzenegger&g=M
38. Kraftsport revue (Nr. 46)
39. http://musclememory.com/show.php?c=Mr+Universe+-+NABBA&y=1967
40. Kraftsport Revue (Nr. 46)
41. Coming on Strong, P. 50
42. Kraftsport Revue 11 (March 65)
43. Kraftsport Revue 18 (Oktober 1965)
44. Der Muskelbilder 36 (Nov 65)
45. Athletik Sport Journal 9: 1969
Pictures:
Thumbnail: From Lydia Tack's Archive
Eugen Sandow; The Bodybuilder November 1952
Otto Arco & Klein; Courty of Michael Murphy
Steroids Liederman; Courty of John Corlett
Covers Magazines; musclememory.com
Arnold Sport Festival, Photograph: John Corlett
Mountain Nevada; Author: Zeimusu https://de.wikipedia.org/wiki/Sierra_Nevada_(Vereinigte_Staaten)#/media/Datei:Mount_Whitney_2003-03-25.jpg
Arnold 1964 Competition, "v.l.n.r.:Cerncic (ging nach Australien,) Marnul,unbekannt, Schwarzenegger, Gobetz und Harald Maurer"; http://www.mahag.com/harry/
Franco Back Pose,from John Corlett's Archive
Arnold Cover Shots embed from
http://musclememory.com/magCovers/im/im2804.jpg
http://musclememory.com/magCovers/md/md0408.jpg
Translated with deepl.com