​Berlin, the capital of Germany, is well-known for its start-up scene. The City is filled with people walking on the street with hopes of establishing their own brand that will allow them to become somebody. In the last few years, Berlin has become one of greatest hotspots of everything strength related. 

The Youtube-Channel "Strength Wars" was established by Konrad Wolf in Berlin, 2012 and gained millions of subscribers through strength battles while introducing new athletes. 
There's a great Youtube-video entitled "Strongman Vs. Powerlifter" published In 2018 and in the first seconds you'd see a young dude called Leonidas Arkona. The introduction gives his stats as follows: Age 20, Height 182cm/5'12, and Weight 130kg/286lb!

At the young age of 20, Arkona really seems to be larger than life. He competed against German strongman 'Tetzel', who has a decade of strength training experience yet head to head, Leonidas was able to win!
Leonida's hunting for records
Leonidas Arkona's first social media activity started on Instagram on July 13, 2018. He recorded his benchpress training. The description gives that he benchpressed 200kg/440lb with 3 reps after an injury. At the time he was 19 years young. On November 13, 2018, he was able to break the current german squat record with 335kg/738lbs!

Between 2018 and 2019 Arkona was surrounded by successful German bodybuilders and strongmen. He wrote on instagram:"I would be rather surrounded by people who are honest than surrounded by people who don't trust me and talking trash"

During this period he mixed up his training with some oldtime-exercises aka. odd-lifts like pushing a car or lifting a barbell with a human hanging on it with one hand!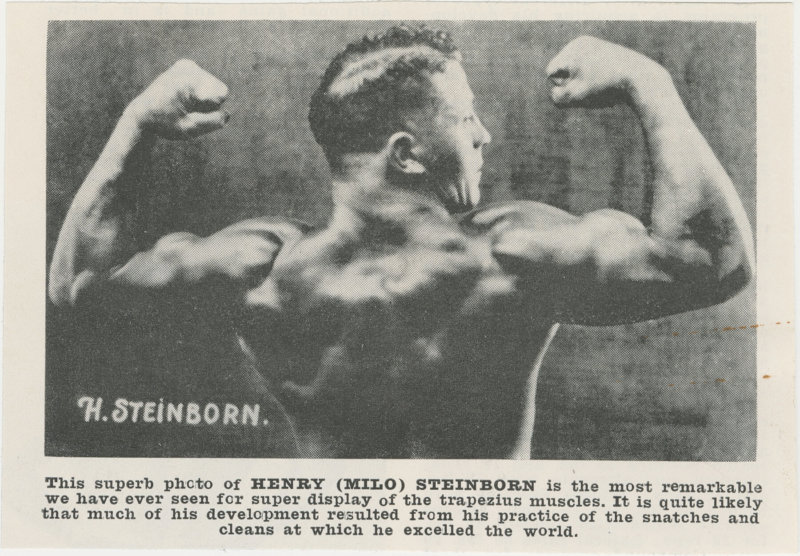 Lifting unwiedly things reminds me of oldtime-strength stars like Hermann Goerner, John Lemm or Henry Steinborn. Furthermore they used to mix up barbell training with wrestling at their highest peak and maintained inhuman strength levels.
Henry Milo Steinborn's Squat
I am proud to tell you that Leonidas seems to be interested in strongman-history and tried to break the record of Milo Steinborn's Squat. Martins Licis, the World's Strongest Man 2018, holds the current Steinborn squat record at 257kg.

Leonidas made the statement, that he is impressed with the feats of strength from the 19th-century aka. pre steroid era! He described enthusiastically reading about a guy, who was able to lift a 120kg-barbell from the floor to over-head with one hand!

History of Milo Steinborn
Who is Steinborn? Heinrich Steinborn was born on 14. March 1894 and grew up near Dusseldorf, Germany. During the First World War he was taken prisoner by the British and spent the time in Australia. In the camp there he did strength exercises and weight lifting. Some of the prisoners had built dumbbells out of concrete blocks and hardwood bars, which they used for training. Heinrich Steinborn took a liking to it and made good progress while,already in the prisoner-of-war camp. In 1919 he was released and returned to Germany.

In 1921 Heinrich Steinborn emigrated to the United States. He first stayed in Philadelphia and started a career as a professional strongman. He displayed some record performances, especially in the knee bends aka. squat. [1]
Steinborn's technique
Before the invention of racks a lifter either had to have patient training partners to lift the heavy bar on to your shoulders OR use Milo´s method of rocking the weight in place, which Steinborn did with up to 550lbs/250kg, and then you had to start the squat from the bottom.
Another great oldtime strongman who used the Milo-Steinborn technique was John Lemm, the Swiss mountainee, who become the European Greco-Roman wrestling heavyweight champion. [2]

John Lemm was born in 1883 and he was one of the first men to place over 500 pounds on his shoulders and do a squat. Lemm's world record of 517lb stood for over 20 years.[3]
Leonidas vs. Steinborn
The Youtube Video entitled 'Trying to Break The World Record – 250KG Steinborn Squat' was published on 28.05.2019. Leonidas warmed up with several repetitions with 100kg to 180kg easily. After repping 180kg Leonidas realized it will not a easy task to reach Steinborn's Squat record. Furthermore he expressed in some way respect and his training mate had some fear that it will end up with an injury. He loaded the barbell up to 210kg, moved it from the floor, took some big breaths, lifted it onto his shoulders and repped it! Step by step Leonidas is reaching Steinborn's record. Now the barbell is loaded up with 230kg and again he made it!
Finally he reached Steinborn's record lift of 250kg. The Video-tape starts playing up some heroic music, and it ended up with Leonidas' roaring:
"STEINBORN!"
Leonidas nearly lost the balance and initially failed, but he was able to correct himself and he succeeded. Congrats!
2019: New Favorite Exercise
On 12 June 2019, he wrote on Instagram: "Barbell curl is my new favorite exercise".
The year 2019 was filled with training for arm wrestling and breaking records in the barbell curl.

On February 22, 2020, he broke the German strict curl record with 91kg and made a name himself for having big and strong arms! Even Youtube-Star 'Nick's Strength and Power' with nearly one million subscribers is currently reporting on him!

On 2. September, 2019, after one year he improved his benchpress to 230kg for 3 reps. A few months later he tried 240kg for 3 reps, but the technique was not proper as before. On 16. May 2020, he wrote that he's back and uploaded a benchpress workout with 200kg for 7 reps. He tagged the post with 'Road to 280kg'.
#Youtube-Training Files
Leonidas is always down to earth and his videos are always packed with great information about strength training. He never jumped on the hype train and attacked other people to obtain more clicks. His straightforward attitude paid off and he is recognized now world wide as a serious athlete. Even Larry Wheels is aware of this Giant from Berlin and invited him to train together.
#Chest Training
On July, 2020 Leonidas uploaded a video entitled "This is my chesttraining". He warmed up with 60kg with fast reps and furthermore it seems he didn't like to lockout during the warm up. He is lying on the bench, upper-body is arched and Leonidas' lattismus is under tension. He made 210 kilo with 4×4. Next exercise was the Incline bench press 160kg with 4×8. After excelling the two basic exercise he decided to add some "fun exercises". Third exercise: Benchpress machine 8-12 reps 4-5 sets. Last exercise was the Butterfly machine for 10-12 reps. He performs these final reps very slow.
#Powerlifting Diet
In Germany bread is part of most meals. At breakfast, break-time and dinner named 'Abendbrot', it's basically the bread of the evening. Leonidas is a big bread-fan and likes to eat bread early in the morning, after working out and before sleeping.

He uploaded a video called: 'Daily 8000 calories – Short insight into my diet'. He listed the following meals as his basic-diet-routine: Pizza, meat, high-protein-bread, Bio-Milk (3,8%fat), Fanta, Sweets (Milka Crunchy break, Apple Pies aka. Gummy bears), Oats (he always has 3Kg oats at home), choco rice (cereal) with milk.

Leonidas biggest source of protein is 'Magerquark'. I know there in the States 'Magerquark' does not exist. So for my American readers: the look and consistents is similar with cream cheese, but here in Germany the protein intake of Magerquark is very high. One small package (500gr) has 60gram protein. He likes to eat 2Kilo a day! Supplements he likes to take are: Creatine, Whey and Omega 3 fats.
We on neckberg whish Leonidas an injury free powerlifting career with a lot of record breaking. I have the strong feeling he'll become "The German Larry Wheels".

Note:
Big thanks to Paul Leonard for proof-reading and checking the article.
Sources
1. https://de.wikipedia.org/wiki/Heinrich_Steinborn
2. David Webster Book Iron Game
3. Wrestling Physical Conditioning 1974 ​